Ok Miranda Priestly, I know! Florals are always around this time of year...but that's because they are CLASSIC! When the sun comes out and birds start chirping away there is nothing that will make you feel prettier than a fresh floral print!
The Nora Dress by Sarah Bibb in Betsy Floral
is the most perfect floral. Girly and sweet but so modern and fresh! I love the color palette. Deep rose, teal, and canary yellow. So beautiful! Wear her with or without an Obi belt. Looks best over an ivory slip! Perfect for weddings, brunch, a walk in the park, or absolutely any time you want to feel gorgeous!
100% Silk and only $190.00!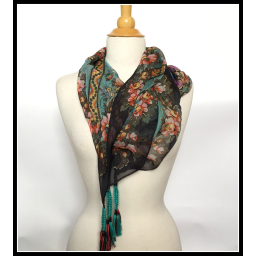 In need of something extra special to add to your outfit? Try a Johnny Was Scarf to spice it up! They are washable 100% silk and they are such a perfect and generous size. Easy. Unique. Beautiful. We love them! So many different patterns to choose from :)
Last but not least, we've put our fave candles online. Voluspa is made in the USA from a super clean burning coconut wax! Crane flower has
n

otes of Bird of Paradise Nectar, Ripe Grapefruit, Geranium and Lavender. Smells like spring! This candle lasts for SIXTY hours! What!
NW 16th Ave, Portland, OR 97209
Tuesday-Saturday 11-6; Sunday 12-5